If you really want to get ahead in life, you need to pursue continued self-improvement. One of the best ways to accomplish this goal is to develop the habit of reading at least 30 minutes every day. (Think you don't have time? Try listening to an audiobook in the car.)
The following is a recommended reading list. (This is simply a "starter list": these books will get you started.) These selections deal with business, but there are excellent books on nearly every subject of interest; all you have to do is look for them.
– John Chancellor
BOOKS ABOUT BUSINESS
My Life in Advertising and Scientific Advertising
, Claude Hopkins
There are two very valuable books here. These books were first published over 80 years ago. But that does not in any way mean they are less important today than they were when first written. The fact that they have withstood the test of time and are still considered highly valuable works today validates the importance of the message.
Both books contain very valuable lessons learned by Claude Hopkins during his amazing career in advertising. He gives a very solid philosophy of advertising and then backs it with many actual examples of advertising in action.
If your business conducts any form of advertising, you would do well to read these two books. As Hopkins points out, "The only purpose of advertising is to make sales. Treat it as a salesman. Force it to justify itself."
It is easy to say that times have changed and what worked in the early 1900's will not work today. There is no doubt that a lot has changed. But not basic human behavior. So the principles are still the same. Your job is to learn the principles and figure out how to apply them to your product or service.

Peaks and Valleys: Making Good And Bad Times Work For You–At Work And In Life
, Spencer Johnson
Peaks and Valleys is a delightful short story that packs a lot of valuable information about "making good and bad times work for you".
The book is very short and well written. It can be read in one sitting. But it contains many very valuable lessons. There is also a card suitable for folding and carrying in your purse or wallet that summarizes the major concepts in the book.
I would recommend that the book be read often. The book has lots of little one liners that contain very valuable lessons. Don't just read the book, study it and internalize the concepts. You will change your peaks and valleys.

Reward Systems: Does Yours Measure Up? (Memo to the CEO)
, Steve Kerr
This is a very short, compact book that is packed full of insights into what makes a good reward system. Kerr points out that many companies devise employee reward systems (often unknowingly) that discourage the behaviors they want and reward the very actions they do not want. For example, most companies want long-term growth but tend to reward employees that achieve quarterly goals thus creating an environment where the focus is on short-term performance.
If you are in any way involved in compensation plans for your company, it is worth reading. It only takes a couple of hours to read but you will get a lot of insight.
Kerr has worked for large companies, GE and Goldman Sachs, and in universities. So most of the material will be of greater benefit to those involved in larger companies. However there are still some great gems for the small business owner.

Think and Grow Rich
, Napoleon Hill
This is a classic and should be on the reading list of any person who truly wishes to improve him- or herself. Napoleon Hill made a 20 year study of success and captured the principles in this well-written book. The most famous line from the book is, "Whatever the mind of man can conceive and believe, it can achieve." A real "how-to" book, it should be first on your list for reading.
You, Inc.: The Art of Selling Yourself
, Harry Beckwith, Christine Clifford Beckwith
You, Inc. is extremely easy to read. You simply fly through the book. Which is good and bad. The lessons are so short and there are so many of them, it makes it difficult to absorb and remember all the great information.
But it is a book that you can pick up anytime and start reading anywhere in the book and find something valuable. All the lessons stand on their own. Harry presents over 150 ideas and lessons about how to make your business and/or yourself better. Well worth reading.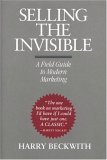 Selling the Invisible: A Field Guide to Modern Marketing
, Harry Beckwith
This is a wonderful book for anyone in any service business. Since over 80% of our economy is now service based, everyone can benefit from reading the book.
It is actually a huge collection of essays on marketing. They are short, well written and very insightful. It would be difficult not to pick up 10 to 15 things that you could do immediately to improve your marketing.

The Science of Influence
, Kevin Hogan
"Most people are like sheep waiting for the shepherds." and Hogan teaches you how to be the shepherd. The book is filled with so much valuable information. Hogan takes the theories from a wide array of studies and translates them into everyday language. He tells you the insights you need to communicate effectively and sell your point. No matter what field you are in, follow the advice and widsom in this book and you will multiply your success tenfold.
Good to Great: Why Some Companies Make the Leap… and Others Don't
Jim Collins
This book compares "sets" of companies and examines why one company in each group went on to become great. The author gives a lot of insight into what makes a great company. There were two elements that really stood out in the successful companies: their philosophy and their people. A company will never be great unless it is in business for the right reasons and has the right people running the company. With the right person at the top, they will attract and keep exceptional employees.
Dr. Deming: The American Who Taught the Japanese About Quality
, Rafael Aguayo
For a long time Edward Deming was more famous in Japan than he was in his native America. At the end of WWII, Deming went to Japan to help get the country moving again. He is given much credit for the industrial advances Japan made and the philosophy he instilled there. His methods are relatively simple: make constant but steady improvements and focus on quality control. Well worth reading.
The Millionaire Next Door
, Thomas J. Stanley, William D. Danko
This book presents an informative look at millionaires in America based on a study done by the authors. Most of the people interviewed didn't fit the common vision of a typical millionaire. Instead, they were more like our next-door neighbors. In the authors' interviewing process, they held a cocktail party and served expensive wine and cheese. After the party they were amazed at how much wine was left. At the next cocktail party they offered beer. When they asked one guest what brand of beer he drank, he replied, "Bud, or free." These findings will open your eyes about what makes a millionaire.